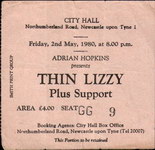 Thanks to Tony Went
Congratulations on an excellent site! I've just found your tours page and it reminded me of something you may find of interest.
By chance on 2nd May 1980 both Wild Horses and Thin Lizzy played Newcastle upon Tyne, Lizzy at the City Hall and Brian's band at the smaller Poly, about 300m away from the Hall. I was a student at the Poly then, and went along to the Horses gig as I couldn't get a ticket for Lizzy.
The hall was only half full for the then-unknown Horses, which was a shame because they played well. They had a late start, and the Lizzy gig must have finished before theirs. At one point towards the end of the set the girl I was with told me to look who I was now standing next to - it was Phil Lynott, dressed in jeans and black leather jacket (of course)! He gave the stage rapt attention, applauding loudly at the end of at least a couple of songs before Brian Robertson noticed him and invited him onstage.
Phil borrowed a bass from Jimmy Bain and suggested 'Johnny B Goode'. A long, ad-libbed version was played which brought the house down. You could feel the enjoyment on-stage and I was privileged to have been there.
Well done again on the site, its a wonderful resource.