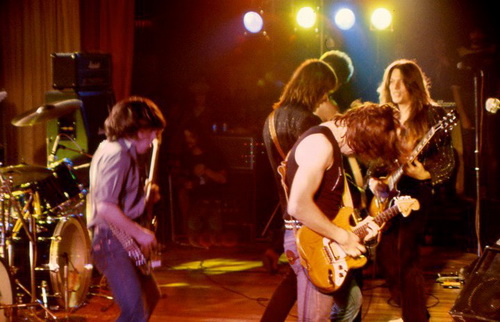 Thanks to Mick Taylor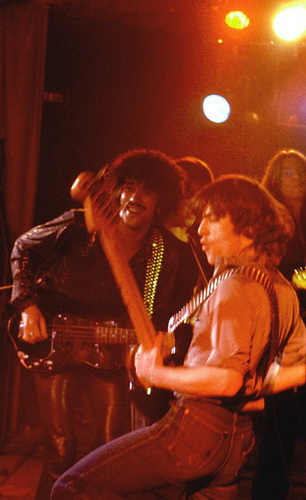 Thanks to Mick Taylor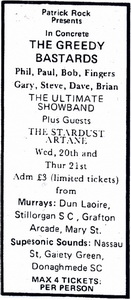 Thanks to Hugo McGuinness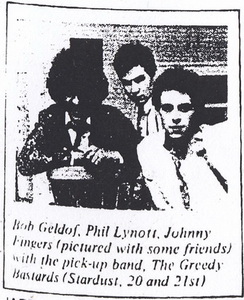 Thanks to Hugo McGuinness
The Band:
Philip Lynott, Brian Downey, Scott Gorham, Gary Moore, Paul Cook, Steve Jones
Hi Peter,
You'll find the following interesting. The add for the Stardust [In Dublin Magazine] suggests that the Rats would form part of the line-up which was not the case on any of the nights. They had a falling out, I believe, over the fact that the Rats felt they should be more prominent then and may have been orchestrated by their management. I've found a small piece in the Hot Press News Section which warns that they were unlikely to do any of the Irish Dates. Also it fails to mention Scott Gorham who played on all dates, and I think the Gary, may refer to Gary Roberts of the Rats rather than G Moore who played on all dates.
The add is fairly tongue in cheek, i.e Patrick Rock presents in concrete, and the reference to the Ultimate Showband is a hint at the regular fare presented at the Stardust. Patrick Rock may be Patrick Butterly of the family who owned the former jam factory turned ballroom. The first night sold out almost overnight, I was at the second which also sold well. That was the show Steve Jones became "unplugged" during Pretty (Vacant) Greedy, Gary Moore changed his guitar three times during the song (one for each solo) to the complete disinterest of the audience, as Scott Gorham almost fell off-stage, he laughed so much at it all.

Hot Press article
The Projected gigs at the Stardust on the 20th and 21st by the Greedie Bastards, the supergroup featuring Phil Lynott, Steve Cook, Paul Jones, and Bob Geldof, among others was in jeprody just before going to press. According to annonymous sources Bob Geldof has pulled out of the Band due to supposedly growing personal differences. Lizzy management were unable to confirm what was happening just prior to us going to press, though it seems likely that the gigs would go ahead.
Thanks to Hugo McGuinness