Big thanks to Ron Fahnestock for sending me these wonderful photos

http://www.homeatfirst.com/THIN-LIZZY.HTM
I met Phil and Lizzy at the Tower Theater in Upper Darby PA in
1977, and photographed them in concert that night after spending the afternoon
back stage with the lads and their road manager. The resulting photographs,
which were submitted but not used for use on the cover of 1978s Live & Dangerous
album, have never been published, except on my web site.
In all there may be a dozen photos that might be of interest to your readers.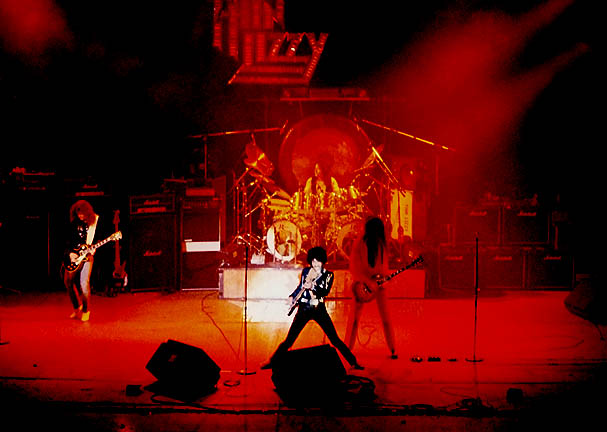 Hope you like the image, which was one of 7 (and one of 5 that show the whole band on
stage together) that I shot from the rocking balcony at the Tower Theater, a great place
to see a rock concert. The other 15 images were shot from the orchestra pit directly in
front of the band and include a number of photos of individual members (except for
Brian Downey, who was very difficult to get behind his kit).

Phil Lynott -- Irish Elvis -- and his phallic bass.
Shot from the orchestra pit without a flash (hence the slight blur).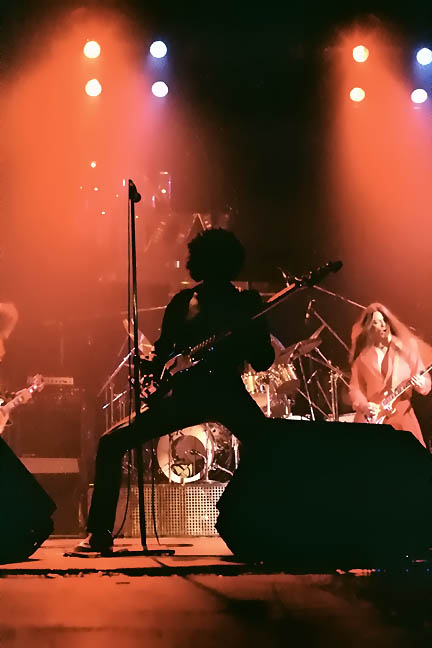 Phil (in full shadow) and Scott Gorham (illuminated in peach or Creamsickle).
Shot from the orchestra pit without a flash (hence Phil in darkness).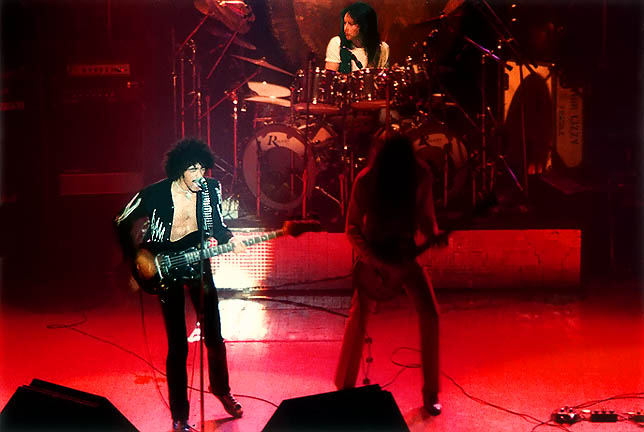 One of the few shots I took where you can see Brian Downey reasonably clearly.
Phil, too. Scott, not so much. But a nice action shot from the bouncing balcony.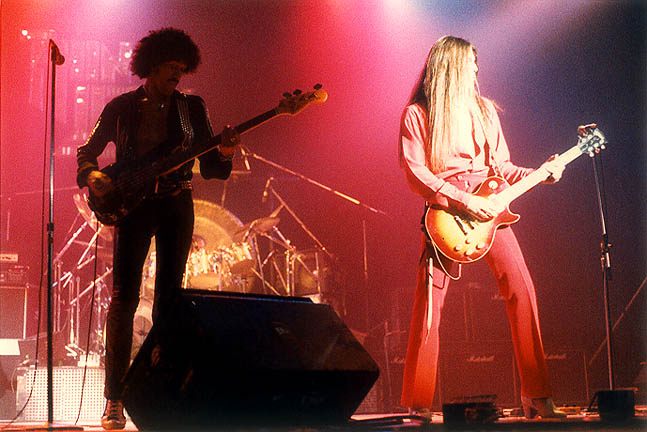 A shot I like a lot. This version is basically "natural" -- colors and composition as
the camera saw the scene: Scott overexposed, Phil underxposed, lighting good,
but a little muted.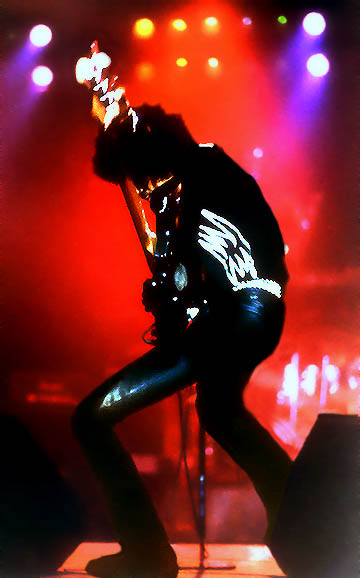 Phil contorting with his Fender bass. Phil was very active on stage and while the
band's guitarists held poses for several seconds at a time, Phil could hardly hold
still. His repertoire of movements seemed unrehearsed, while Robbo and Scott
seemed to be heavily choreographed.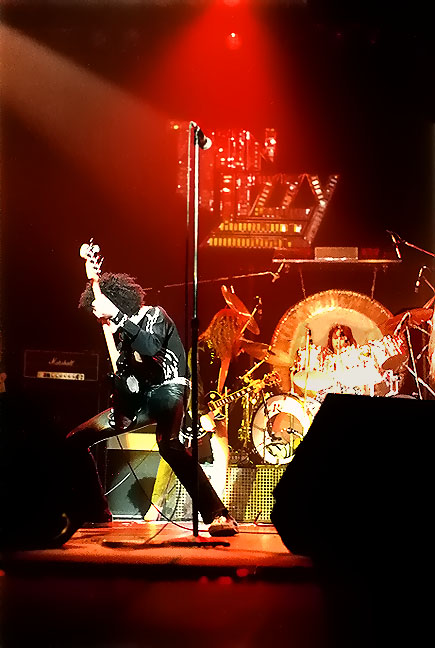 Phil in another contortion fronts the two Brians in another action scene I took from
the orchestra pit. The guitarists rarely left their respective territories on stage right
and stage left to visit the drummer. Here Robbo is urging on Brian Downey while
Phil requires no urging.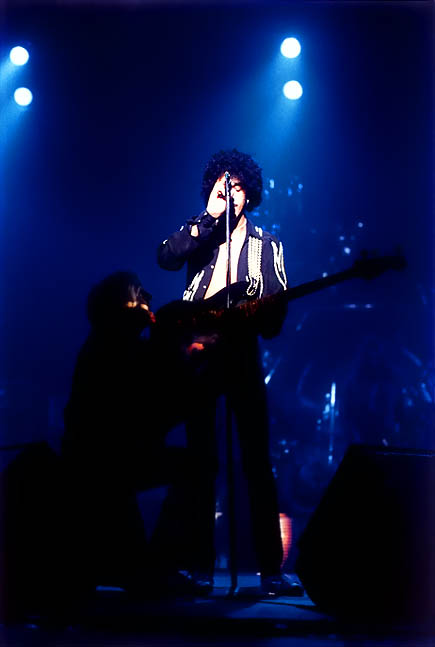 Occasionally things were quiet on stage: usually between songs or at the beginning
of a ballad, like "The Cowboy Song". Here we see a roadie adjusting Phil's mic stand.
The roadie's kneeling pose combine with the deep blue lighting to give the moment
a reverent, almost worshipful, aspect. Such a respectful pause would not last long.
Soon enough Phil would be whipping Thin Lizzy into a frenzied high gear, and the
Tower Theater audience would be standing, bouncing, thrilling.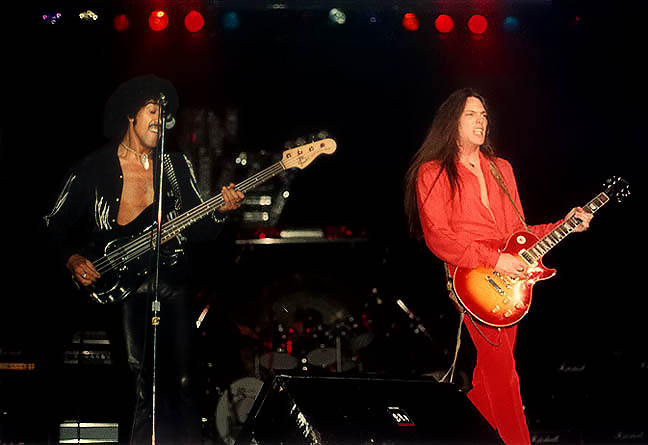 Phil and Scott in action. As anyone who ever played bass and sang lead knows,
doing these two things at once is not easy. Phil played some complex bass lines
and still managed to be creative with his vocals -- changing lyrics and addressing
the audience. Phil often checked his hand position on the bass visually while he
sang. Scott was rarely doing two things at once, and rarely looked at his fretboard,
even during the complex guitar choreography of harmony duets with Brian
Robertson.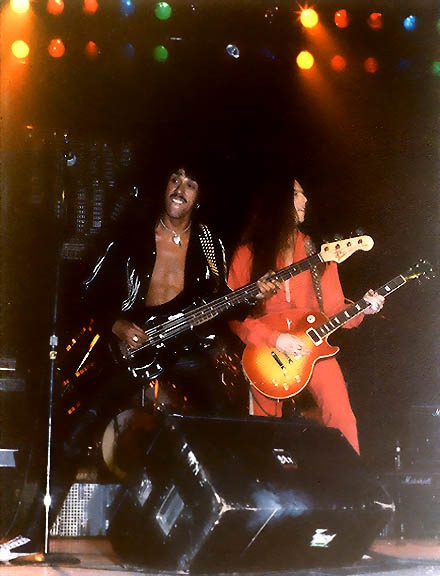 Phil and Scott again. This time Phil isn't encumbered by singing and can focus on
the bass -- and moving with the music, driving the audience with his aggressive
posturing.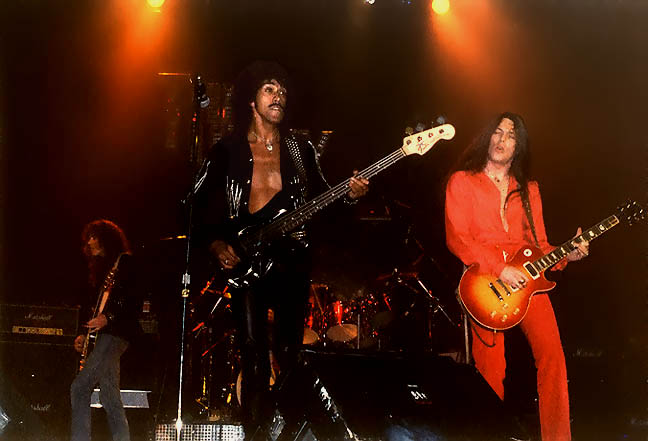 Robbo, Phil, and Scott during an instrumental section. From their hand positions
and their facial concentration, it is likely that Robbo and Scott are in the midst of
one of their guitar harmony duets that was as much a signature of Thin Lizzy as
Phil's husky voice and rock 'n roll storytelling. Note Phil's concentration, too. In
a four-piece band, when both guitars are playing lead, the bass player and drummer
are responsible for laying down a solid bottom and keeping the song driving, tight,
and powerful.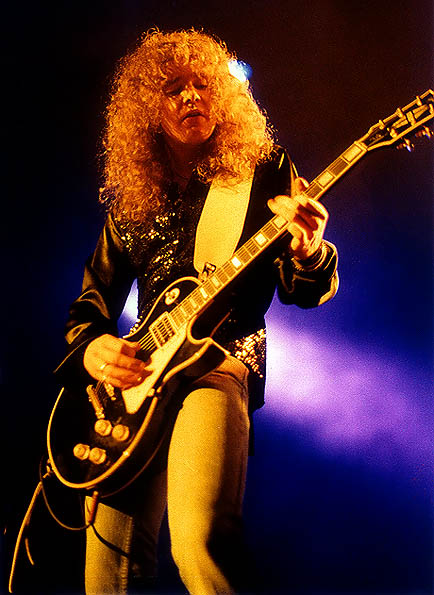 Brian "Robbo" Robertson in shades of yellow and blue. Thin Lizzy's flying Scot
brought a heavy blues guitar sound to the band to compliment Scott Gorham's
driving West Coast guitar style. Both guitarists used versatile Gibson Les Pauls
as their primary instruments. Les Pauls are known for their many voices, but
Robbo and Scott -- despite their different backgrounds and stylistic preferences --
played their harmony duets in the same guitar voice, as if one guitar overdubbing
itself. Other notable bands who used guitar harmonies -- The Allman Brothers
come to mind -- coupled distinctly different guitar voices, creating a blend that
could at times sound discordant. Thin Lizzy's twin guitar voices never missed:
like the vocal harmonies of Don & Phil Everly, the guitar mix of Robbo and Scott
was smooth, effortless, natural, and as tonally fraternal as a band of brothers.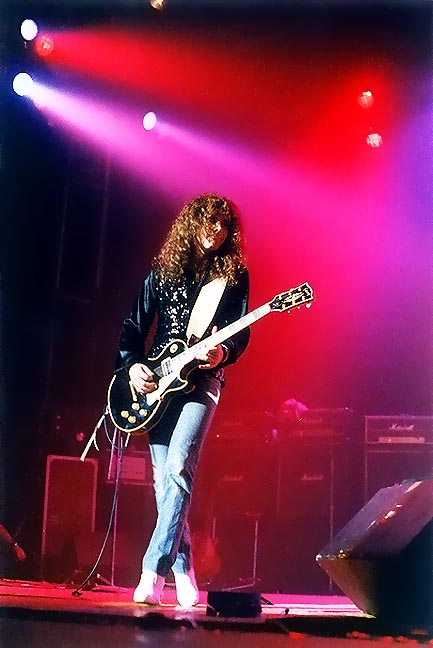 Another shot of Robbo -- my favorite of Brian Robertson -- shows the guitarist's
relaxed confidence and stage swagger in one of his characteristic poses, looking
somehow unaffected by the dramatic set lighting and the sound pressure from his
wall of Marshall cabinets. Just another day at the beach for Mr. Robertson.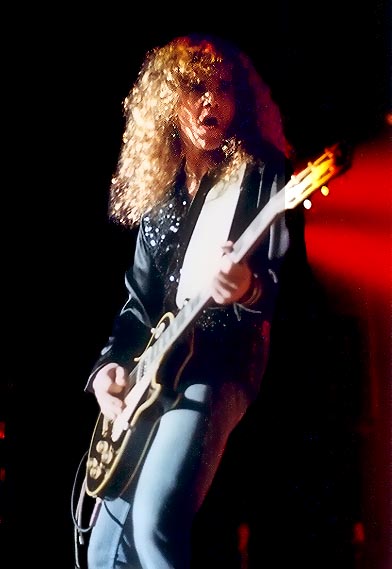 Later, when I returned to the orchestra pit in front of the stage, Robbo came close
during one of his urgent, menacing leads. I understand he and the band had a rocky
history and that he left Thin Lizzy less than a year after this photo. But this evening
there was nothing but great harmony and teamwork among all four players.

In this horizontal shot taken from the balcony Phil squats between his monitors,
revving up the crowd in the first row behind the orchestra pit. Robbo and Scott focus on
what might be the "siren" duet of "Jailbreak", judging by the flashing rack of police
cruiser emergency lights mounted behind Brian Downey's gong.

This band portrait from the balcony shows the band with heads bowed. I don't recall
if I caught them just as they were ending a song -- as Phil's raised right hand suggests --
or whether the band was in the midst of a demanding instrumental section that
required the focus of each player on his instrument. My guess is the former, because
of the full shower of red light illuminating the stage, providing a crescendo of color
that would match the swelling of a final chord.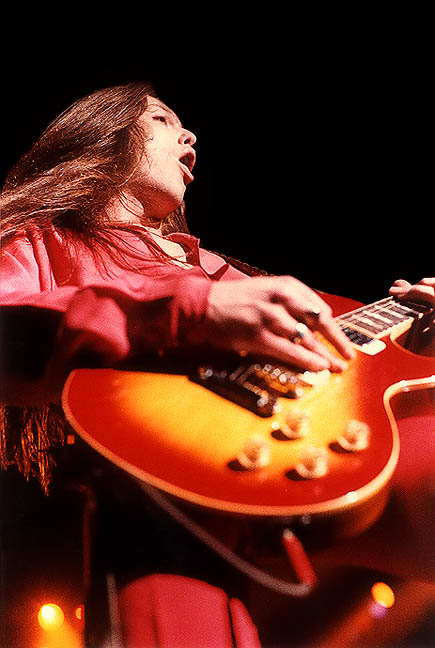 The shot of Scott Gorham may be the best photo of all I took that evening. He came
to the edge of the stage to solo in a spotlight, and I didn't miss.

Two more vertical shots from the balcony:
One, unfortunately, has Phil overexposed and washed out, but its image of drummer
Brian Downey is as clear and well-lit as I got him that evening.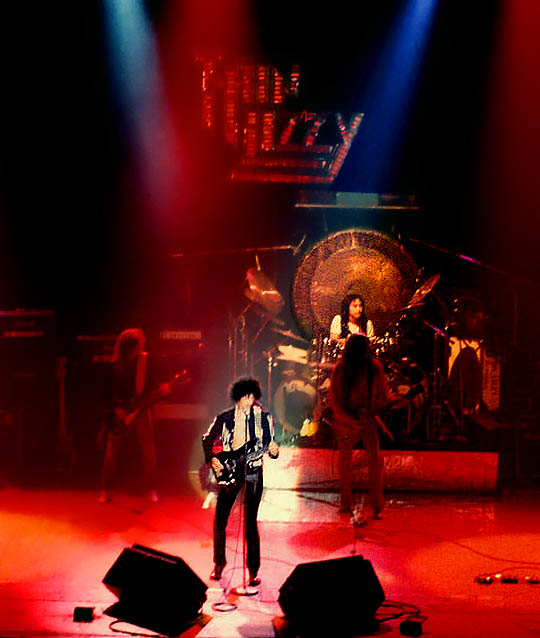 The second captures Phil in the spotlight with minimal blur.
The still photos with intense colors barely hint at the frenzied action of the band
accompanied by rapid-fire stage lighting choreographed to the changing dynamics of
the music. Photographing Lizzy in the dark theater without a flash was a challenge akin
to shooting an exciting football game at night.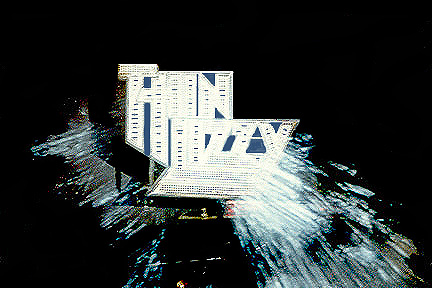 Finally, the odd shot of the exploding Thin Lizzy logo is a curiosity your readers might
enjoy. It is somewhat blurry, as it was taken from the rocking balcony with a long-lens.
When it happened, it caught me by surprise. In those days before automatic focus and
computerized exposure selection, I pointed my manual Pentax camera at the logo and pressed the shutter button.
I was lucky to catch the explosion with reasonable focus and exposure.

But then, why not? I had been lucky all day: meeting the band at the height of their
popularity in the USA, being invited to shoot their extraordinary concert, and having
free access to the theater to do so. My luck continues: I'm lucky enough to have found
an audience interested in these old photos thirty-three years on. Hope you enjoyed them.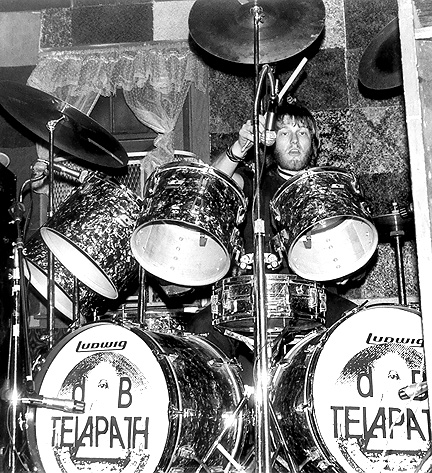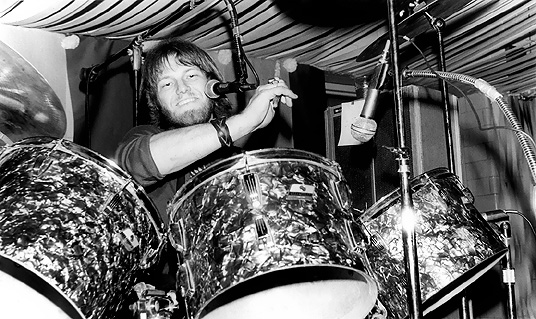 Photographer Ron Fahnestock ("Ronnie Stockton") performing with his band,
Telapath, in 1977. The Philadelphia native was invited to photograph Thin Lizzy
at its October 20 concert at Philadelphia's Tower Theater (actually in Upper Darby,
Pennsylvania) not because he was a musician, but because he was also a
professional photo-journalist with a Pennsylvania newspaper. The photos were
to be considered for use for the cover of Lizzy's "Live and Dangerous" album.
However, the recording made that evening was not used for "Live and Dangerous",
and the pictures, therefore, were not used. Ironically, the October 20 Tower
Theater concert recording has become the source of a 2009 release ("Still
Dangerous") and is also available on the internet. Happily the pictures of the
concert remained in photographer's archive, essentially not seen by Lizzy
fans and the general public until now.