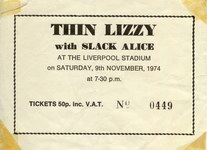 Thanks to Dave Davies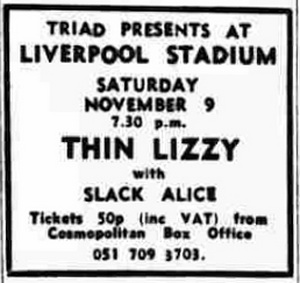 Thanks to Martin Stassen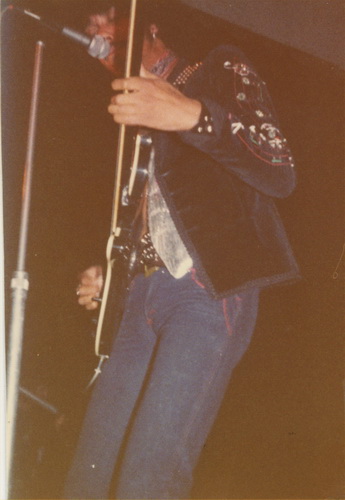 Thanks to Mike Royden
Hi Peter
Thanks for your mail and web links, I've visited your excellent site many times over the years. Thanks for the attachments, much appreciated.
Takes me back this!
Those Cavern nights were great times, we saw some fantastic bands there. We were members and went every week. Everyone associates the Cavern with The Beatles and Merseybeat, but it thrived as a rock club well into the mid-70s until it was demolished, as it was in the way of the new underground railway. It moved across the road, then became the famous Eric's Club, so it was still a place we went to for years.
Thin Lizzy seemed to be on in Liverpool a lot in those days, just being a short boat trip from Dublin.
We got to know them just as friendly faces really, before and just after Whiskey in the Jar, as they were still relatively unknown, and were regular visitors.
Even in the photo no one else was bothering them, we just sat in the corner with them quietly chatting and having a drink, both before and after the gig, just as we had done so on previous visits. Gary Moore, who we had seen quite a few times already with Skid Row, had just joined as you know, but it was still as a fill-in at that stage, Gary was saying he was going back to his own band after the tour. It was only a few weeks later it became 'permanent'.
After this they played Liverpool Stadium many times, they had become quite huge by then of course, and it was a main event.
Sadly their last gig was quite marred as it ended the Stadium, as a young girl was attacked and raped outside afterwards in a tunnel leading away from the venue. The authoriities shut the place down.
But we had great times there, and there are still FaceBook pages and reunions held for those who used to go. It was a great place.
I have quite a collection of photos I took back then, but only three of Thin Lizzy I'm afraid, one of which is the Stadium. But you're welcome to use them. There were more, but poor quality. I'll have a look again, but nothing worth posting I dont think.
In the Cavern pic, thats my friend Steve on the right (still good pals almost 50 years later!), the girl was someone who went with us on the night.
All the best
Mike